I am a singer-songwriter and pluridisciplinary artist and I have just released my second solo album "Saint Sebastien", a mix of indie-rock, blues, folk and romantic punk.
When I was a little girl my parents had a beautiful book about the French actress Sarah Bernhardt. It was a collection of photographs of her in her various roles – and various they were ! She portrayed young women, old women, and even men – and to me, it looked like nothing could be more exciting then living all these lives in one, wearing these fancy costumes, and being strange, mysterious and seductive.
A few years later, when I was in my early teens, I spent hours at the public library, where they also had a music section. And a great one : they had punk rock records. The first record I borrowed was The New-York Dolls. I had no idea what kind of music it was, but I loved their looks. And, wow, I loved the music. Rock'n'Roll.
In fact, it was the most amazing thing I had ever heard.
Fresh out of school, I founded my own multimedia theatre company which combined theatre, performance art, photography, video and rock'n'roll.
At first, I was using music composed and sung by artists or bands I liked.
But soon enough, I felt very frustrated not using original music.
I began writing lyrics, then learned how to play guitar. It was getting on my nerves so bad when I was learning that I even took anxiety pills to keep on practicing those chords over and over !
I also wrote and acted in Edouard Baer's shows. Characters I played include a murderer-cheerleader, a tiger-woman, an S & M mistress, an ingenuous and seductive baby-sitter, and many other whimsical creatures. It was a lot of fun, I have to say.
In parallel to my musical and theatrical activities, I draw and paint watercolours. I also design my own albums artwork.
As a solo artist, I have released an EP entitled « Six Uses for a Heart » in 2009, followed by the EP « Electric Ballerina » in 2011 and « Saint Sebastien », my second solo album in 2014, all of them in collaboration with François "Shanka" Maigret (The Dukes).
What I do is the reflection of my experiences, of my joys and pains, thru the filter of my imagination. Do you know that song "Singer of Songs" by Johnny Cash ? This is how I feel about music and art, about what I want to share with the world.
When I was writing and composing my latest album, it was a very difficult time in my life. Everything was falling apart . At some point, I was so low I was wondering if I was gonna be able to go on. And that moment, I had a vision : Saint Sebastien. This vision saved me because it was the perfect illustration of how I felt at the time. And the thing is, Saint Sebastien is wounded and bleeding in all the paintings representing him, but he is also strong, defiant, sexy and provocative. I think he truly is the saint of rock'n'roll.
Recently I was asked in an interview what advice I would offer to other new musicians, and I  answered the following : learn your craft on stage. I mean, if you know two chords and have something to say, make a song with two chords and perform that song in public as soon as you can. Rehearse it to the best of your abilities before then perform it. You will learn so much more than by performing in your room. Then you get better and better. Then, know that everyone is not going to like you and that's okay because you would not like them either anyway. Fuck these people. Try to find your peers and collaborate with them. Watch a lot of gigs or videos of performers you like and feel their energy. If they are speaking to your soul, there is something for you there.
Me, I like flamboyance, sensuality, fun, tension, beauty, rock'n'rollers, provocateurs, and poets.
I am a romantic punk.
And an animal rights activist. I say no to real fur, I don't eat animals, and hell yes, I drink margaritas.
Wanna hear about my upcoming shows, exhibitions, and events ? Just type in your email address, and we'll be in touch !
Love from France
 "Incandescent poetic rock songs" Femme Actuelle (France)
"post-modern psychedelic emotive sensuality" Circus Bazaar (Australia)
 « Some folk neatly tied to punk, her voice oozes rock'n'roll » Lylo (France)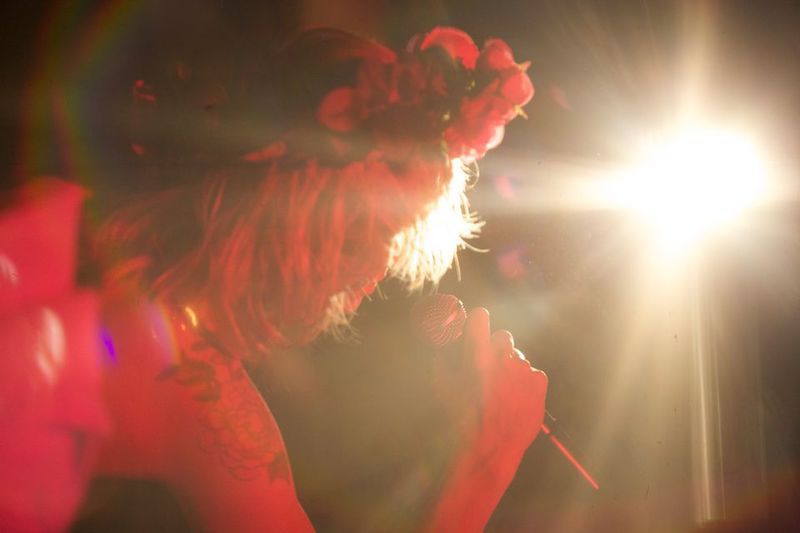 Photo : M.Holden Warren
 « France de Griessen continues her poetic and mythic journey with Saint Sebastien, a lyrical, mellifluous album full of songs of joy and sadness. With this pleasurable and profound new album she continues to prove herself to be one of France's most engaging and subversive balladeers »
Bruce LaBruce, Film-maker, writer and photographer
 My music is featured in "LA Zombie" directed by Bruce LaBruce (in competition at the Locarno International Film Festival – 2010), starring François Sagat, and in "Bye-Bye Blondie" (2012) directed by Virginie Despentes, starring Emmanuelle Béart and Béatrice Dalle.