France de Griessen's second album, 'SAINT SEBASTIEN' intricately combines indie-rock, romantic punk, blues and folk.
The rich arrangements, haunting atmosphere, instinctive, minimalist and deconstructed drums, and powerful, old-school, noisy guitars, all encase a voice imprinted with tenderness, sensuality or rage, stripped raw and tense.
"SAINT SEBASTIEN", produced and co-composed by François « Shanka » Maigret (The Dukes), was recorded by Alexis Berthelot at Studio G., Brooklyn (Tom Waits, Ani DiFranco, Jon Langford, Sparklehorse…)
 « France de Griessen continues her poetic and mythic journey with Saint Sebastien, a lyrical, mellifluous album full of songs of joy and sadness. With this pleasurable and profound new album she continues to prove herself to be one of France's most engaging and subversive balladeers »
Bruce LaBruce, Film-maker, writer and photographer
BIOGRAPHY
France de Griessen is a singer-songwriter and pluridisciplinary artist.
After founding her own multimedia theatre company, she wrote and acted in Edouard Baer's shows for four years. Characters she played include a muderer-cheerleader, a tiger-woman, an S & M mistress, an ingenuous and seductive baby-sitter, and many other whimsical creatures.
She also performed with songwriter and musician Michaël Gadrat under the name of « Teen Machine », wearing cow-boy boots and red lipstick, appearing in the guise of a female version of Billy the Kid. The duo released the concept-album « Billy »  in 2005.
As the adventure of « Billy »  drew to a close, France started to think about a new musical project, solo this time. With this in mind, she suggested to François « Shanka » Maigret ( The Dukes) that they collaborate on a few tracks. The musical understanding was so pronounced and the alchemy so complementary that the collaboration has continued to this day.
As a solo artist, France de Griessen has released an EP entitled « Six Uses for a Heart » in 2009, followed by the EP « Electric Ballerina » in 2011.
« Saint Sebastien », her second solo album, will be out in january 2014.
France de Griessen's songs are featured on the soundrack of Bruce LaBruce's « L.A Zombie » starring François Sagat and Virginie Despentes's « Bye-Bye Blondie » starring Béatrice Dalle and Emmanuelle Béart.
In parallel to her musical and theatrical activities, she draws and paints watercolours in which we can re-discover her vision of a wondrous and cruel world, both imbued with colours of childhood and darkened by violence. Her pieces are regularly exhibited in the independent and institutional circuit.
France de Griessen also designs her own albums artwork.
She has lived in Belgium, France and in the United States.
She writes and sings in French and English.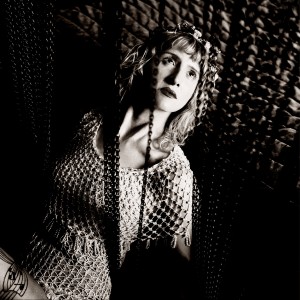 Photo : Richard Dumas
Press quotes on « Electric Ballerina » (2011)
« Her first album instantly positions her among the best female French rockers (…) bilingual and endowed with a powerful voice, she sings without inhibitions, from the delicate to the boisterous » ROCK& FOLK
« She is the new icon that French rock was waiting for » LONGUEUR D'ONDES
 « Provocative, letterred and original : newcomer France de Griessen is the kind of artist you don't see anymore in the French music scene » GUITARE LIVE
 «  France de Griessen in Wonderland : an elegant, feminine and intensely poetic rocker »Le Journal de L'Inutile
 « Uncompromising pluridisciplinary artist France de Griessen delivers an intense and haunting first album » BAZART
 « Some folk neatly tied to punk, her voice oozes rock'n'roll » » LYLO
« Talent and an attitude » Obsküre
« France de Griessen is genre-breaking (…) violent and sweet like childhood »  Soulkitchen.fr
« intensely glamourous grunge pop » BIBA