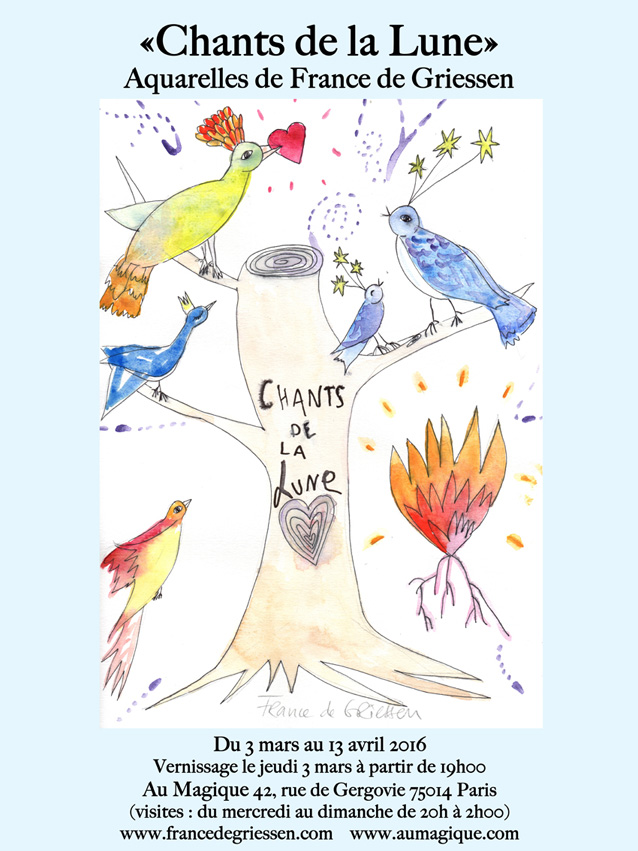 Je vous invite avec "Chants de Lune" à découvrir un univers féerique, poétique, sensuel, peuplé de symboles et habité de forts liens à l'instinct et au ressenti de l'enfance.
Une sélection d'aquarelles inspirées par la musique, les animaux et le monde sauvage, le tatouage, les marins, la liberté…
Un voyage nocturne de printemps, dans le cadre du Magique – où je me produis régulièrement en acoustique par ailleurs.
L'exposition sera visible du 3 mars au 13 avril 2016, de 20h à 2h00, du mercredi au dimanche
"Chants de la lune" will be opening on the 3rd of March at "Au Magique" 42, rue de Gergovie 75014 Paris, starting at 7pm.
Filled with symbols, dreamlike, poetic, sensuous, these watercolors are inspired both by intuition, visions, a strong connection to childhood and by my love for music, animals, nature, tattoo, sailors and freedom…
"Chants de la Lune", from March 3rd until April 13th. open wed-sun from 8pm until 2am
Vernissage le 3 mars 2016 / Exhibition opening March 3rd 2016 ​​
Photos par Jean-Gabriel Aubert, Dorian Brumerive, François Maigret et Kokou Spawnbart Hovor